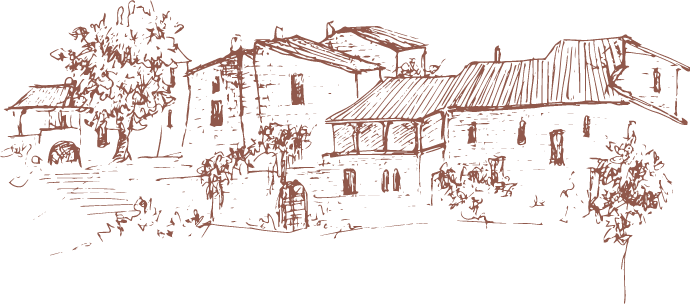 Enjoy exclusive use of Le Hameau for your private events, small receptions and seminars in Ardèche.
Le Hameau is a unique location that has the power to remind everyone about the important things in life. Everything – whether by nature's accident or our design – has been thought of so guests can spend special moments together and reconnect.
We welcome groups and professionals and your comfort has been artfully catered for. The entire estate offers both common areas made for socialising, dotted around the grounds, as well as individual nooks where guests can retreat to in tranquil surroundings.
While we wanted to preserve the warm ambience of a family home, we also offer a discreet and efficient service catering to your private or professional meetings.
Whether you are here for a day or longer, your comfort is our top priority so you can relax and enjoy your time here with peace of mind.
A perfect location. A glorious setting. A bespoke service.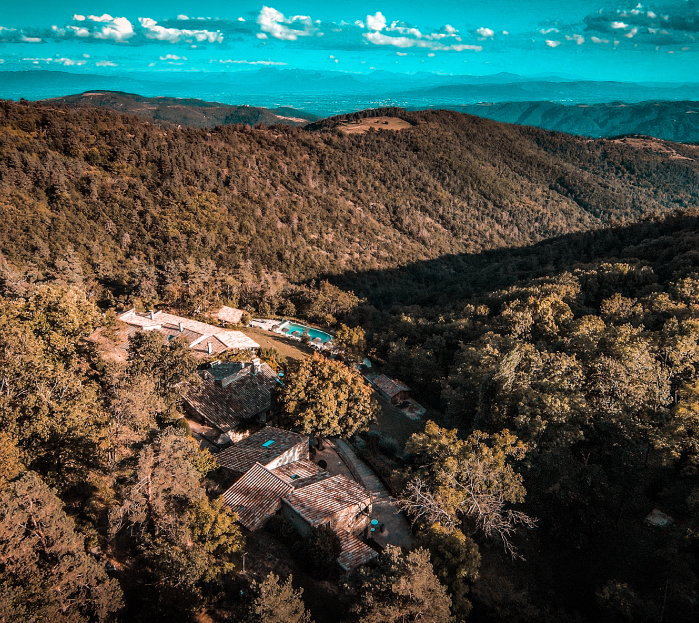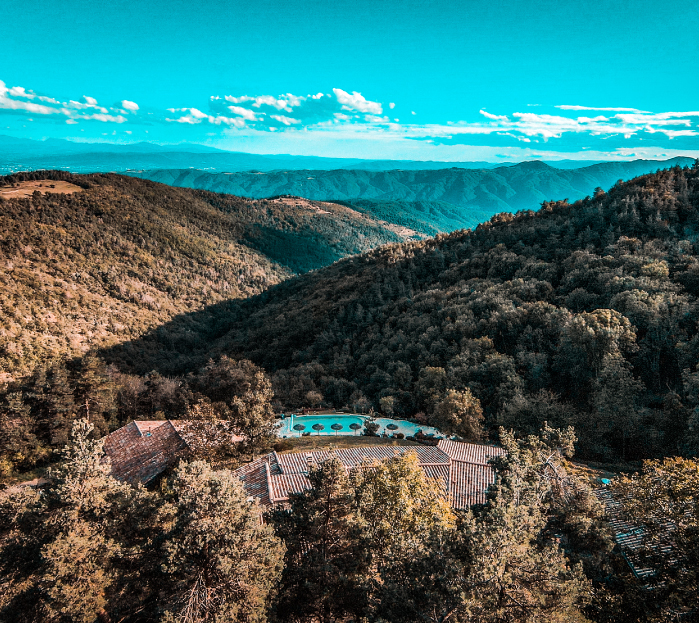 Come together with family and friends in peaceful and hospitable surroundings.
If you are looking for a place with character to host your private event, Le Hameau de la Mûre is ideal for small receptions with family or friends.
Everything is provided for you to enjoy the tranquillity and beauty of the property.
The charming and extraordinary setting looks out to a forest of oak, ash and chestnut trees, not to mention an infinity pool. And the breathtaking views of the neighbouring mountains are sure to come up in conversation during meals enjoyed in the living room or on the terrace overlooking the valley.
You can also get away from it all by taking a leisurely stroll around the 85-hectare grounds or by exploring the wealth of things to see and do in Ardèche. Outdoor sports, local food and drink and cultural heritage will delight the curious, young or old, seeking fresh air and authenticity.
We will advise you on the best service providers for planning your event.
Professional events,
seminars in Ardèche
Host your business events at a place made for bringing people together.
Le Hameau de la Mûre is a peaceful and hospitable retreat just perfect for a planning day or seminar in Ardèche.
On the property, you can hold your business meeting, retire to your individual accommodation, dine together and find inspiration in your new environment.
The maximum capacity of the estate for accommodation is 38 people.
Our room reserved for professional events has been designed as a space for exchange and relaxation, in keeping with the serenity of the place and its unspoilt views over the valley.
In addition, the relaxation areas dotted around, such as the leafy grounds and the swimming pool, will be ideal for unwinding, chatting, sharing and team-building. There are also many group activities available not far from Le Hameau.
Most of the guest rooms and gîtes can accommodate twin beds for hosting team members. Rooms are self-contained with en suite bathrooms. Entrances are independent.
Additional services are available. We can lay on buffet breakfasts in the living room, as well as drinks and snacks for morning and afternoon breaks. Our cakes, clafoutis and other pastries are all homemade. You can also have lunch and dinner on site. Our dinner options are made using local produce.
We look forward to hosting you for your professional and private events or seminars in the Ardèche, for a day or longer stay.